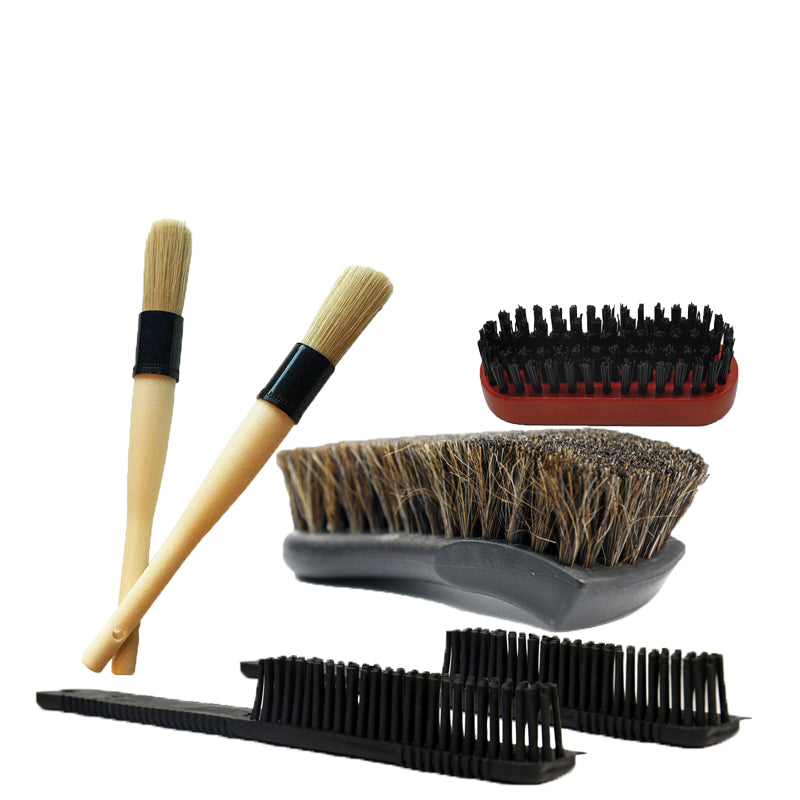 Our Newest Brush Kits Have Arrived! Bundle & Save with our carefully curated selection of CarCarez detailing kits sure to be a great addition to any auto-enthusiasts toolbox. 
Boar Bristle detailing brush is the perfect tool to get into those hard to reach areas to remove any dirt, dust, and filth from those hidden nooks and crannies. A protective rubber ferrule sits between the bristles and handle to prevent unwanted scratches on paint or other surfaces.
CarCarez exclusive premium leather & textile detailing brush uses professional grade synthetic nylon bristles designed specifically to be effective yet gentle on pigmented leather, textile, alcantara and more. This brush is perfect for removing any dirt from deep graining as well as dusting off deep edges and folds.
Horse Hair Interior Upholstery Brush utilizes thousands of genuine horse hair bristles to gently remove dirt from deep graining of pigmented leathers and to dust off deep edges and folds. What's so special about horse hair you ask? These bristles are not only extremely soft and durable, but also naturally absorb moisture. This unique property makes it perfect for evenly apply cleaning agents and lotions.
Professional Pet Hair Removal Brush uses the power of static electricity to trap hair, fur, and lint without the need for water or chemicals. Reusable, custom designed flexible bristles create an electrostatic charge that attracts and holds hair and lint like a magnet. When you're finished, simply run the brush under water and it's good as new.
Includes:
Boar Hair Detailing Brush w. Protective Rubber Ferrule (Pack of 2)
Premium Leather & Textile Detailing Brush (Upholstery, Carpet, Pigmented Leather, Alcantara & More)
Premium Horse Hair Upholstery Brush
Pet Hair Removal Brush (Pack of 2)